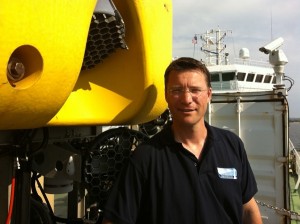 Cliff is a seasoned marine engineer, business developer, entrepreneur and consultant. He is passionate about applying his knowledge and experience in helping young and growing companies achieve breakthrough success.
He has more than 20 years of experience in various marine and technology focused roles starting with sailing 8 years in the U.S. Merchant Marines gaining his 1st Engineers license.
Cliff is presently the principal at IP Subsea, a marine engineering consulting company specializing in implementing subsea ROV manpower and technology in Cable Burial, Oil and Gas and subsea mining and dredging. IP Subsea is a finalist in the 2014 Marine Technology MTR100 for the design on our dual use mining and dredging ROV. Cliff is also a partner in Twisted Pick LLC, an offshore subsea ROV mining project in Alaska.
Previously, Cliff launched the business development, sales and marketing efforts across multiple service offerings at Pharos Offshore Group, a UK marine contracting company providing manpower and subsea ROV equipment. He was responsible for calculating and compiling complex commercial proposals and quotes for long term ROV manning and subsea cable installation and burial projects.
Cliff also led the implementation of a TE SubCom (Formerly Tyco Telecommunications) fleet wide asset management system incorporating maintenance and inventory management their 16 ROVs across 8 subsea cable vessels. He was also in construction management of Tyco's six state-of-the-art purpose-built cable ships.
Cliff also served as co-founder and Chief Operations Officer of Brandserts, LLC, and interactive print media company specializing in high-impact, brand-sponsored inserts. His leadership was key in creating strategic partnerships with major U.S. publishers including USA Today, PRIMEDIA, Tribune Corporation and American Media.
He also served as Chief Operations Officer at Notemarks, a Web 2.0 start-up company featuring the Notemark®, an innovative desktop application designed to give Web users a better way to save, share and organize content. Notemarks was a 2007 Finalist in the TechCrunch 40 competition to find the top 40 Web startups worldwide.
Key areas of expertise:
Strategic Planning and implementation
Marine Engineering and offshore operations
Subsea ROV Technology and Manning
Subsea cable, pipe and transmission cable burial
Speaking as an expert at industry seminars with the ability to communicate the technical to the non-technical
A native of Rochester New York, Cliff is a graduate of New York Maritime College at Fort Schuyler, where he earned a Bachelor of Engineering in Marine Engineering and a U.S. Coast Guard License as Third Engineer for Steam and Diesel vessels of unlimited horsepower. Cliff now lives near Baltimore Maryland with his wife and two children. CV and References are available upon request.