Securing open borders at the waterline
Autonomous underwater vehicles (AUVs) are a cost-effective platform to scan the bottom of arriving ships at the entrance of ports.

 High-resolution sonar can detect unknown objects like bombs or smuggling containers attached to the vessel bottom.
Solution Requirement Urgency:
Increasing terror activity by groups like ISIS and potential threats to US ports
Current lack of subsea surveillance and detection permanently stationed in ports
Need to secure our open boarders from terror threats at the waterline
Geolocation and proximity to targets on the US East coast
Multiple vulnerable targets in a vital port like Baltimore
Recent channel depth increase to 50 feet to allow for larger "New Panamax" and "Post-Panamax" vessels. This increased the available clearance under shallower draft hulls increasing the ability to attach objects under hull.
Benefits of an AUV platform
Low capital costs compared to alternatives.
Low operational costs
Minimal vessel and manpower support requirements
High-resolution in low visibility, high turbidity and night time conditions
Diverless operations remove human risk
Scanning ability with or without vessel cooperation
Minimal or no impact on vessel transit
Existing technology
Bluefin Robotics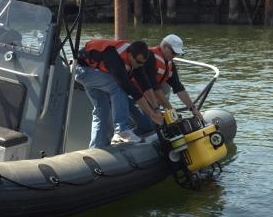 One company, Bluefin Robotics, a leader in the design and manufacturing of Autonomous Underwater Vehicles (AUVs), is being awarded a $30 million contract modification to exercise option III for the Explosive Ordnance Disposal Hull Unmanned Underwater Vehicle Localization Systems (HULS) production systems. The HULS production systems support Naval Forces in conducting hull, piers and pilings searches. This unit would be called in to inspect individual threats
Battelle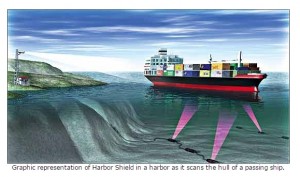 Battelle is working on their Harbor Shield project using stationary sensor arrays to inspect cargo hull exteriors for explosives and other contraband in vessel traffic lanes. While presumably effective, the more permanent cables would be more expensive and unable to relocate quickly to different strategic positions. Both of these examples validate the need and interest for new technology.